The Feast of Sant'Erasmo
Period: June
Type: Flavour festivals, Music and theater
Town: CASTEL GOFFREDO
The 2nd of June is the Italian Republic Day, but Castel Goffredo, on this date, also celebrates its recognition as a city and does so with a busy schedule of events. The first part of the celebrations is characterized by institutional events such as conferences on current issues or the Erasmo d'oro Ceremony, an award given to a citizen or a group (association or category) which particularly stood out during the year for their efforts in favour of the town's community.
During this special day of celebrations, you can also have the opportunity to learn about the historical and artistic heritage of Castel Goffredo, participating to guided tours of the city or visiting the museum "The Sant'Erasmo Provostal Church and its Treasury."
Sometimes, the Feast of Sant'Erasmo coincides with the event Libri sotto i portici, that takes place the first Sunday of every month in the streets and squares of the old town.
The evening ends with the traditional concert offered by Gruppo San Luca Onlus.
Here the 2015 program: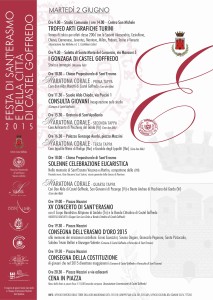 2014 EDITION